---
We don't just TEACH, We INSPIRE the desire for Adventure!
Since 2016, Boys' Town Adventure Centre (BTAC) has connected children and youths to outdoor adventure through our individualised crafted programmes that are now under the quadrants of HEAL, GROW, FUN and ECO (new!).
Though a young Adventure group, BTAC stems from Boys' Town 70 years of dedication in youth work where our specialisation is engaging children and youths of all ages. The Adventure Specialists at BTAC are trained professionals in the fields of youth work, outdoor adventure, psychology, and social work.
---
---
---
Learn to start outdoor survival-style fire lightings


Environmentally-Friendly
---
---
---
Finding clean water in the wilderness


Learn about the fundamentals of water treatment
---
---
---
Master the use of knots and lashings to build catapults


Learn about Cohesive Strength
---
---
---
Learn different ways to climb


Overcome problematic scenarios together as a group!
---
Children & Youth Activity
Light Up
---
Scaled down to a small firepit to ensure social distancing while having fun, participants get to experience outdoor survival style fire lighting techniques using a flint-and-steel or a magnifying glass.
---
---
COVID-19 Safe Management Measures
---
A blazing fire in the outdoors brings about warmth and safety, from hot meals to a night around the campfire with your friends. Participants will learn how to build and sustain a fire in the outdoors safely, while minimising the impact on the environment, practicing Leave No Trace Outdoor Ethics and building on a vital skill used in outdoor survival.
---
---
---
Children & Youth Activity
Are You Thirsty?
---
Participants will learn the fundamentals and science of our daily drinking water treatment – Water source selection; Sedimentation; Filtration; Sterilization. Activities can be conducted indoors or outdoors.
---
---
COVID-19 Safe Management Measures
---
When you're out in the wild without the proper equipment, how do you get clean water to sustain you?

Our Sand Filter activity aims to teach participants how to build a filter from natural materials found around them in the outdoors, while understanding the principles behind water filtration.
---
---
---
Children & Youth Activity
Gladiator
---
Participants will learn how to transform a pile of sticks and string into a working catapult capable of launching projectiles, using simple knots and lashings.
---
---
COVID-19 Safe Management Measures
---
Cohesive strength – A single stick falls and breaks easily but tie a few together, wonders may be created. With a scaled down version using chopsticks and twine, the gladiator can be transformed into an indoor-based activity. Activity suitable for all ages or in small groups.
---
---
---
Children & Youth Activity
Ascent
---
The activity creates problem-solving scenarios using the technical skills learned, bringing participants together to overcome different challenges in a safe and fun way.
---
---
COVID-19 Safe Management Measures
---
There's more than one way to climb. In this activity, participants will learn a different form of climbing involving the use of mechanical devices to ascend a rope, rather than climbing up a wall. Activity may be conducted outdoors or indoors, and also off-site at the client's venue of choice.
---
---
---
the happy project
Gratitude
Developing and application of Socio-emotional Learning competencies such as social awareness, responsible decision making and self-management through GRATITUDE BUILDING.
Each session builds upon the concept of Gratitude and ends off with a class collaborative project made up of individual contributions (eg. individual collage)
---
School / Classroom-based Programme
---
---
COVID-19 Safe Management Measures
---
Wish to find out more?
Click here for a Programme brochure!
---
---
The science behind gratitude asserts that practising gratitude can bring about positive outcomes for physical and psychological life eg. happier, healthier and reduces negative ruminations. As a strength-based resource, having a grateful mindset can help one manage difficulties later on in life and it strengthens relationships.
For students, the practice of gratitude has been found to improve stress management, concentration, moods and lead to increased creativity, self-motivation and better sense of well-being. Researchers have shown that activities that foster gratefulness in students may even have long term benefits beyond enhancing their social and emotional skills.
We are cultivating the value of :
Heartfulness
Thoughtfulness
Generosity
Selflessness
Session can be conducted during CCE lessons, in a small group of min. 6 pax or a class of max. 40 pax. Hands-on learning (eg. didactic, social media, craft work etc will be introduced)
---
---
---
Facility Rental Rate
---
Climbing Facilities
Rock-Climbing Wall

Wet Weather Contingency *

Abseiling Wall

Bouldering Room
$300 (half day) | $500 (full day)

$150 (half day) | $300 (full day)

$300 (half day) | $500 (full day)

$350 (half day) | $600 (full day)

Combo Deals
2 Rock-Climbing Walls

3 Rock-Climbing Walls

Tower Exclusive

1 Rock-Climbing Wall + Bouldering
$500 (half day) | $800 (full day)

$700 (half day) | $1,000 (full day)

$850 (half day) | $1,200 (full day)

$550 (half day) | $900 (full day)
Sports Facilities
Field (approximately 14 m x 15 m)

Basketball Court
$50 (half day) | $100 (full day)

$30 (half day) | $60 (full day)
Seminar Rooms

Seminar Room A
100-seaters theatre-style/ another setup can be arranged

Seminar Room B
200-seaters theatre-style/ another setup can be arranged

Seminar Room C
300-seaters theatre-style/ another setup can be arranged

$200 (half day) | $350 (full day)


$350 (half day) | $600 (full day)


$500 (half day) | $800 (full day)

Please note!
Rental of facilities exclude program facilitation, equipment, furniture and whatever not stated.
Facilities are subject to availability.
Prices may vary from time to time or with any additional item/ request.
Please contact adventurecentre@boystown.org.sg or call +65 6690 5420 for further enquiry.
---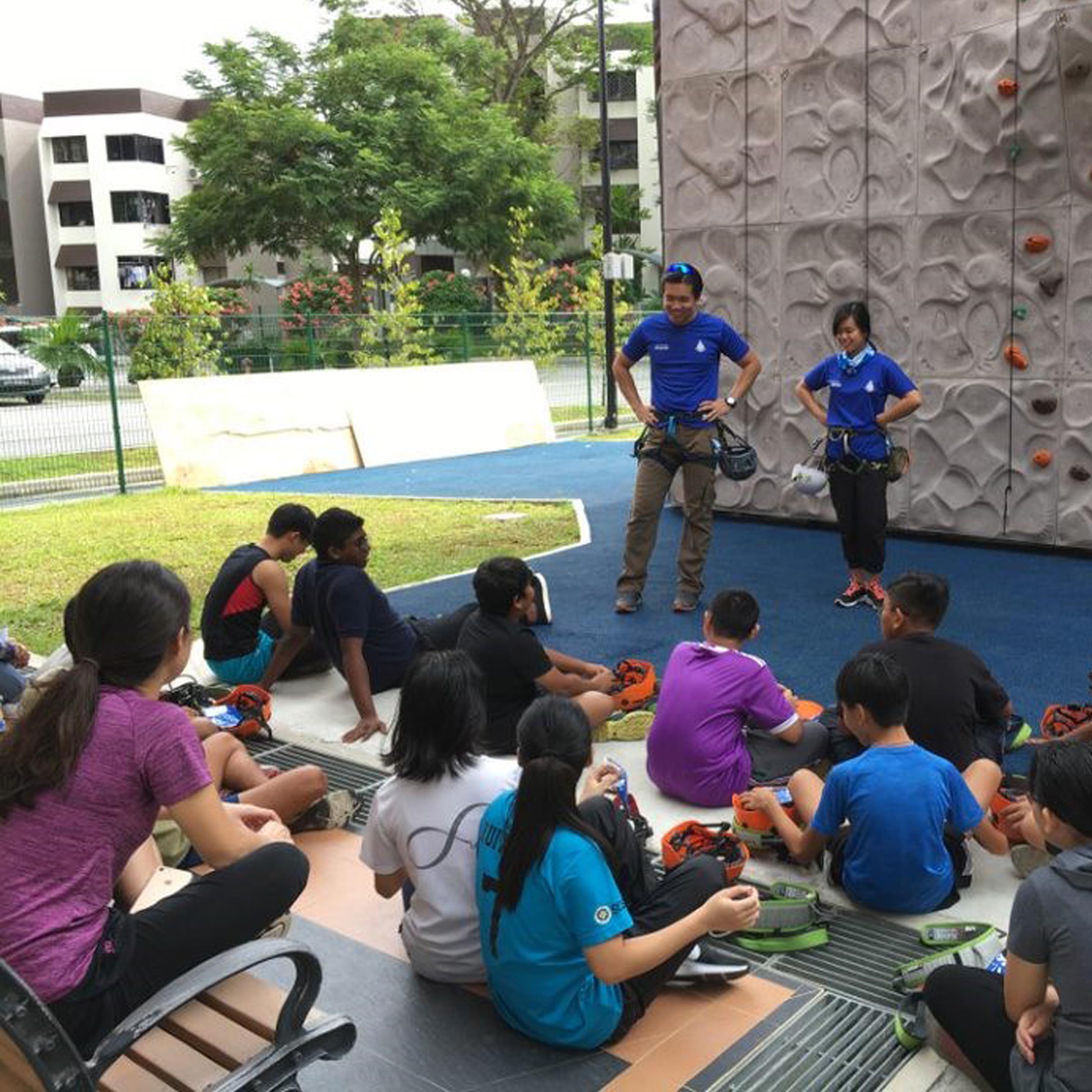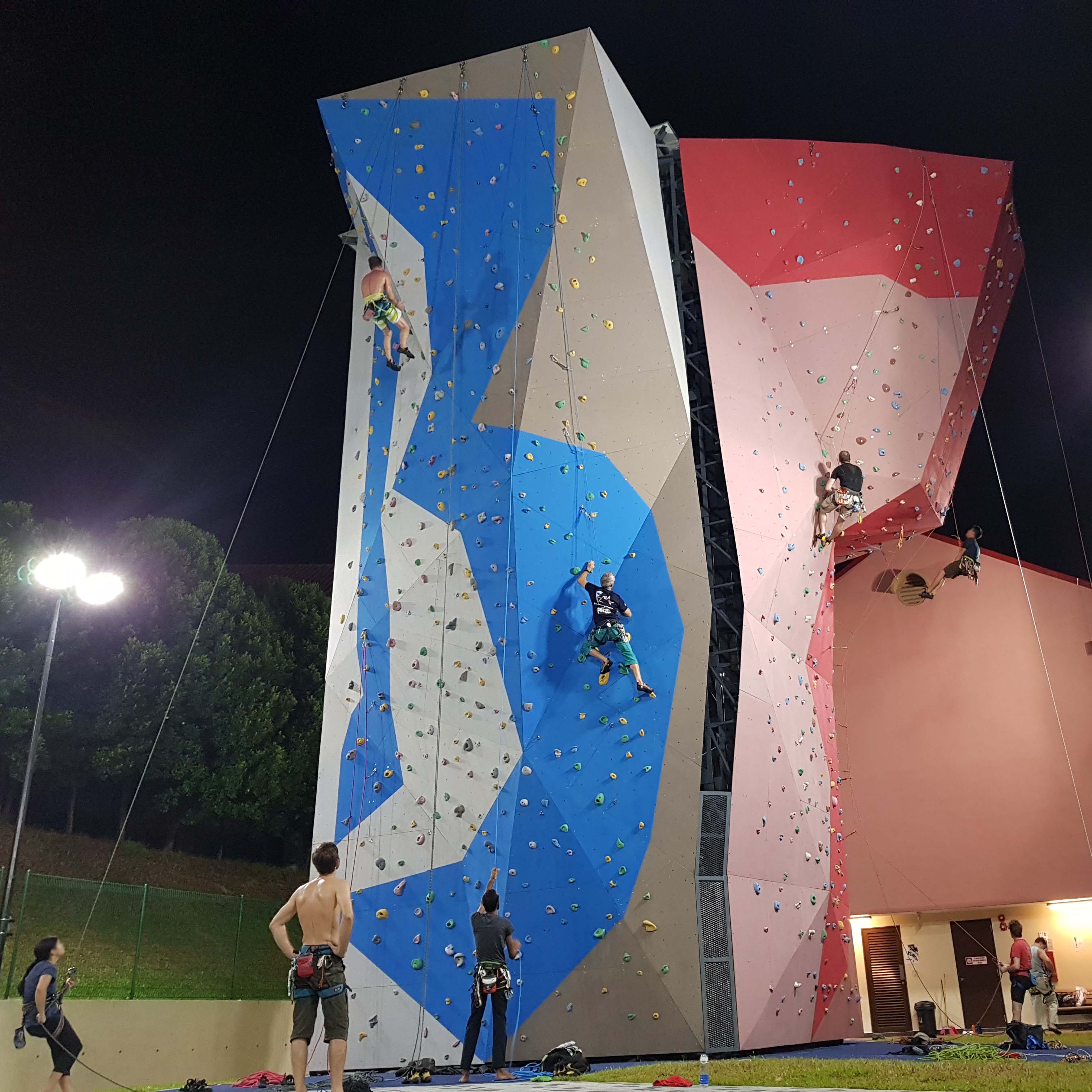 In recent years, we have observed that the profile of at-risk youths appeared to be more challenging with their presenting problems which are often psycho-social in nature. While there are existing interventions in the form of counseling, expressive art and other therapies, there appears to be a need for a different approach in intervention to manage their growing needs and challenges.
What was realized is that traditional counseling, expressive art and basic play therapy didn't engage the whole range of youth at risk. Many of these youths were very reserved and guarded in a typical therapeutic session and therapists required more time to work with these youths as their resistance were greater. However, it was noticed that when exposed to intense physical activities/training sessions over a period of time, these youths became more responsive and their learning abilities soared.
It was with moments like these, that their approach to life took on a new angle and they started to see possibilities to accomplish things for themselves, often times extending towards their studies.
As such, in 2014, Boys' Town commissioned its very own specialized team to complement its existing youth services and programmes. In 2016, Boys' Town kicked start Boys' Town Adventure Centre (BTAC) which involved developing and conducting both indoor and outdoor therapeutic and developmental programmes for groups of both residential and non-residential children and youths.
It is our belief that adventure based programmes and therapy can be the next wave of intervention for children and youths in-need or at-risk, bringing them to a higher level of learning and effect lasting changes!
Talk to us!

---
You may drop us an email at: adventurecentre@boystown.org.sg
You may also reach us at:6690 5420
Or, use the contact form below!
---