BT Changemakers - 2020 Campaign
---
---
---
---
Dear Friends of Boys' Town,
The year 2020 started with an epidemic that has hit the nation hard and resulted in a climate of economic uncertainty. Unfortunately, this has impacted Boys' Town. We depend on donations to run our operations which have declined during this crisis period. Therefore, we would like to appeal for your support to be a BT Changemaker.
---
I would like to share with you the story of Ariel, one of our residential youths. Ariel comes from a single-parent family as his father passed away recently. As Ariel shared a very close relationship with his father, he struggled with grief over his father's passing. It was around the same period that he became addicted to online gaming and did not attend school for several months.
When Ariel first came to Boys' Town, he was quiet and guarded as he did not know what to expect in a residential home. He soon familiarized himself and joined various activities such as photography and running interest groups, drumming programme and enjoyed dragon boating during camp.
---
---
We provided Ariel art therapy as an avenue for emotional support and referred him for grief and loss therapy. He realised that it was necessary for his mother to send him to Boys' Town. Our structured program changed him to instil discipline, independence and internal motivation to attend school. He now understands how his earlier actions had affected his life.
Together with his school, we monitored his progress and arranged weekly tuition for him. We are proud to share that Ariel did well and was one of the top students for PSLE in his foundation class. He also received 4 school awards in recognition of his excellence in academics and character.
---
The wonderful news is that Ariel is now making the transition to return home to be with his family. During his stay in Boys' Town, Ariel has matured to become a more confident individual who is forthcoming in sharing his thoughts and emotions. He now believes he is ready and able to manage his discipline back home.
---
This is a happy ending for Ariel, and it is our wish that other vulnerable children and youths with difficult circumstances would also have the same. Thus, we would like to invite you on board this journey as a BT Changemaker to make a difference.
---
Donate to our Changemakers 2020 Campaign!
Your support would produce tremendous ripple effect in their lives
---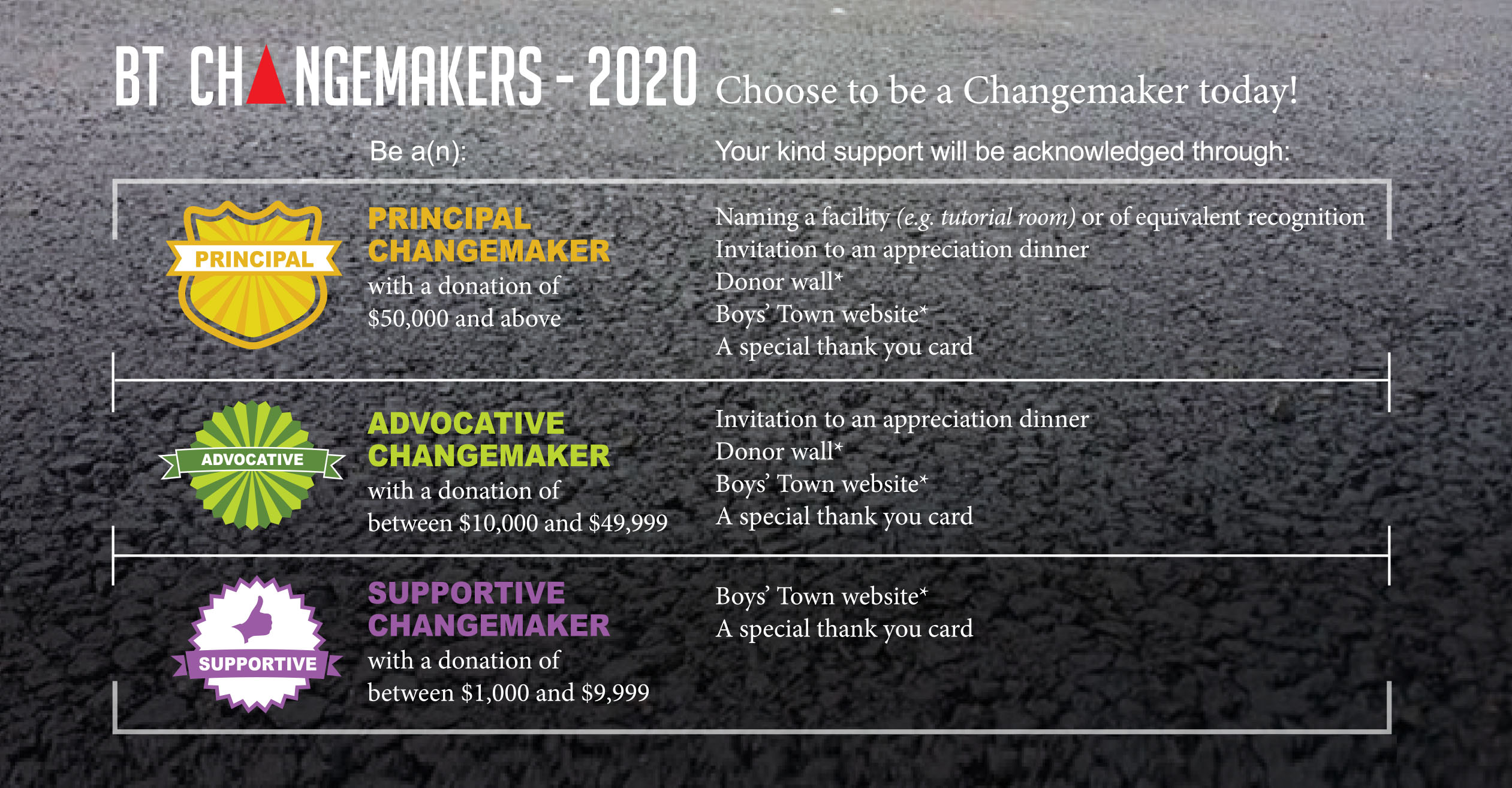 ---
Appreciation and Acknowledgement
Click here to view the list of Boys' Town Changemakers – 2020
---
---
---
Mr Gerard Lee
---
Chairman, Boys' Town Board of Directors
---
---